Homer Willess, the Grandfather of WVUV
Today's WVUV traces its origins to a small AM radio station started by Homer Willess, a U.S. Navy seaman stationed in Pago Pago during World War II.  In 1942, Willess built the station to help entertain the troops stationed on Tutuila.  WVUV eventually became part of "The Mosquito Network", a group of stations run by the Armed Forces Radio Network on various Pacific islands.  After the war, WVUV was turned over to the American Samoa Government, which ran the station until 1972, when it was privatized.  At that time, WVUV was purchased by Lawrence Berger, who also owned stations in Honolulu and in Guam.  The station operated from modest facilities near the station's transmitting tower in Leone.  By the late 90's, WVUV had gone off-air.  What was left of the station was purchased by South Seas Broadcasting and operated on low power for several years.  When South Seas launched a new FM station in 2008, it became WVUV-FM and "V103" was born.  (The old WVUV-AM is now defunct).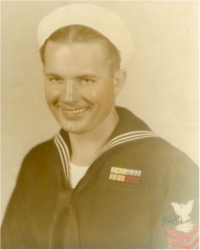 Homer Willess in 1942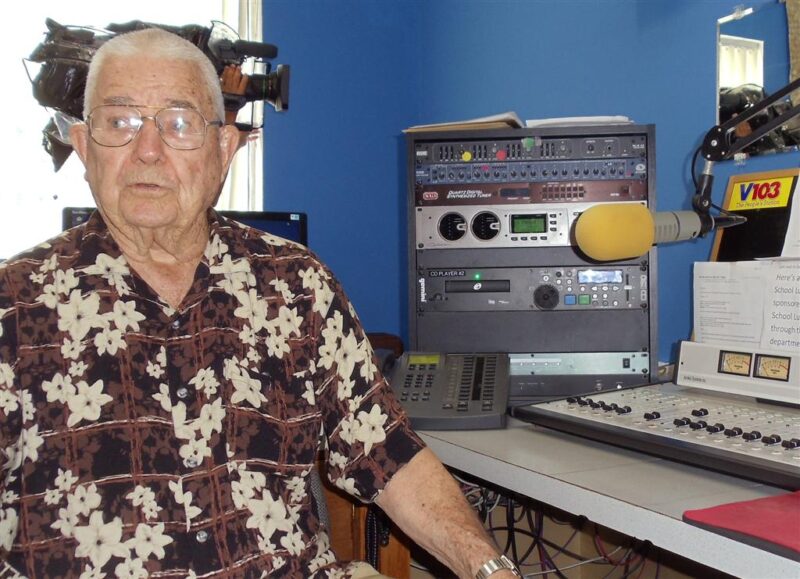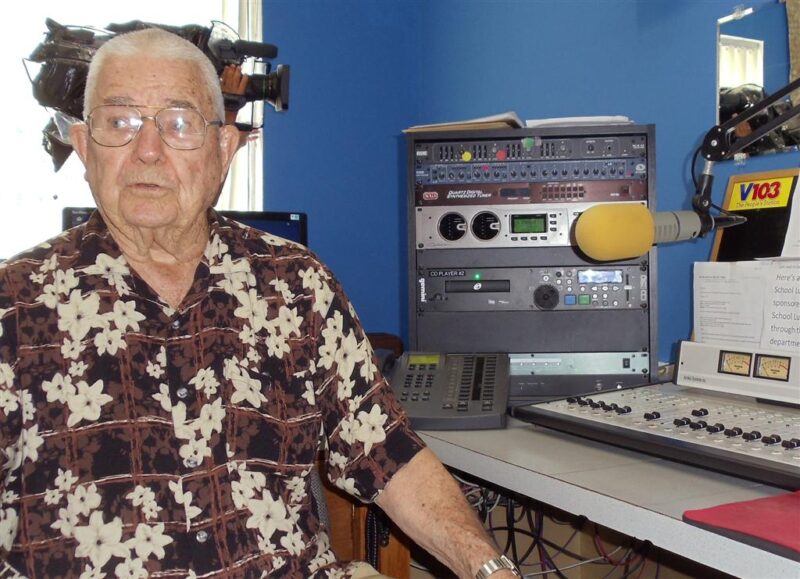 Homer Willess visiting WVUV-FM on April 6, 2012, just months before his passing.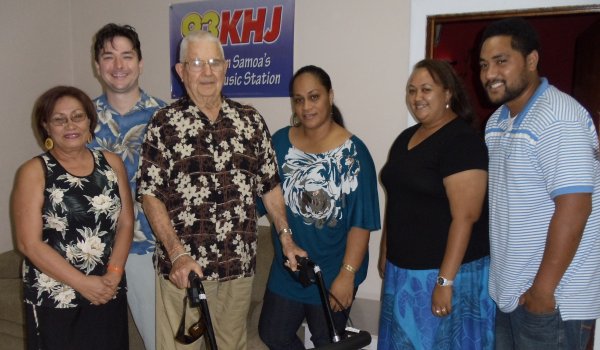 Homer Willess with the 93KHJ/V103 staff.
Early WVUV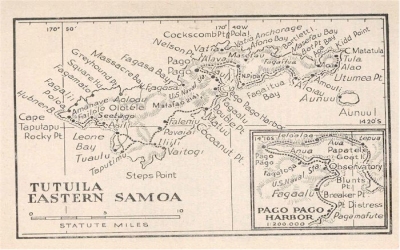 A map used by Homer Willess.  The original WVUV operated on 1050 KHz.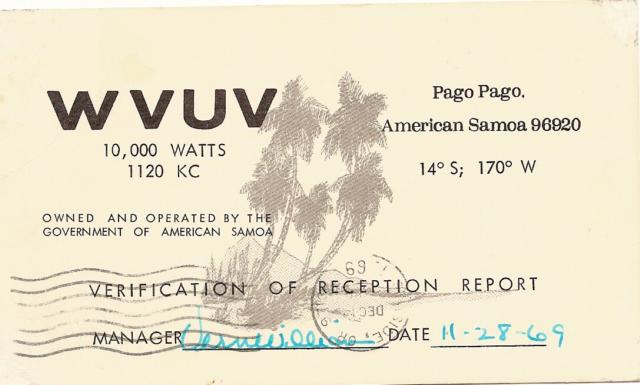 A 1969 QSL card from WVUV, then operating on 1120 KHz.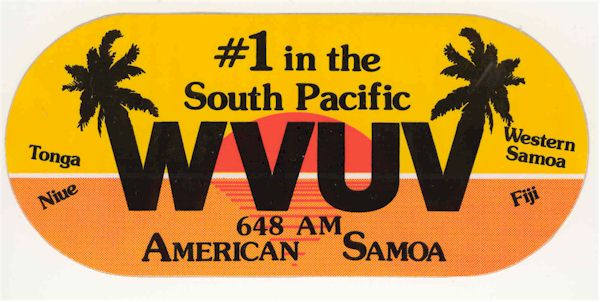 A 1980's bumper ticker from WVUV, now operating on 648 KHz.
HOMER WILLESS VISITS WVUV
Samoan Love Story
While Homer Willess was stationed in American Samoa, he met and fell in love with a young Samoan girl, whom he later married.  After her death, Homer visited American Samoa in April 2012.  The following story from TV New Zealand documents the love story of Homer and Vaofefe Willess and Homer's return trip to American Samoa in 2012.
Homer Willess Obituary
Homer LeRoy Willess, a resident at the Spanish Cove Retirement Village in Yukon, OK since June 2004, passed away in his apartment on September 24, 2012. He was 93 years old. Funeral services were held at the Parker Cemetery in Rockwall, TX on September 29 at 3:00 PM, and a Masonic Memorial ceremony will be held at the Yukon Masonic Lodge on October 1, 2012 at 5:00 PM. In lieu of flowers, the family requests donations be made to the Shriner's Hospital for Children. You may donate on line at www.shrinershospitalsforchildren.org/.
Homer was born on June 23, 1919 in Rockwall, TX and was preceded in death by his wife and life partner of 68 years, Vaofefe (aka Fefe) Willess, who passed away on September 22, 2010. As was their wish, Homer and Fefe's ashes will be buried together in Parker Cemetery. Homer was also preceded by his father, James Homer Willess and mother, Mellisa Pearl Passons Willess; brothers Bennie Dean, James Leon (Jim), Henry Francis (Monk), John Raymond, and Walter Fred (Joe) Willess; sisters Dorothy Pearl (Dot) Willess Gentry/Dunn, Vivian Marie Willess Young, and Mary Evelyn Willess Seay; and grandson, Cory Bereman, who passed away in June 2002. He is survived by three brothers Charles Nathan (Chuck) of Vista, CA, and Thomas Allen (Bigger), and Albert Lynn (Popeye) Willess, and three sisters Ana Lucille Willess Motley, Ethel Eugenia Willess Roland, , and Ruby Janice (Jan) Willess Johnson, all of Texas; sons Lee Willess and wife Mariette of Vista, CA, and Leo Willess and wife Keiko of Woodbridge, VA; daughters Meleane and husband Charlie Tautolo of American Samoa, and Dinah and her husband Darrell Sanchez of Yukon OK; 14 grandchildren; and a host of great-grandchildren, nephews, nieces, and other relatives.
Homer left Rockwall when he was 13 years old and worked in a ranch in West Texas for five years before joining the Navy on July 10, 1937. In March 1938, he was assigned to the battleship USS Idaho, and then to Commander Battleship Division 3, which traveled through the Panama Canal to the Caribbean and returned to the Pacific in April 1939. In 1940 he served on the USS Idaho, USS New Mexico, and USS Maryland. In late December 1940, was assigned to a Naval radio station in Tutuila, American Samoa, and in August 1941 he was assigned to the outpost island of Ta'u as a radio, weather station and powerhouse operator. He returned to Tutuila in April 1942, and was assigned to Pago Pago harbor where he copied radio press news and command messages from Headquarters, SW Pacific in New Caledonia.
It was on Tutuila where he met and married Fefe, his life partner, on September 12, 1942. They lived in the village of Utulei where their two sons were born. It was during his time in Utulei that Homer built and operated the first radio station in American Samoa with the call sign WVUV, which is still in operation today. The music that he played on a small Packard Bell record player and that transmitted music throughout American Samoa was also instrumental in the eventual courtship between him and Fefe. Their love story was documented in 2011 during Homer's return to American Samoa, and can be seen on YouTube by typing in Homer Willess. In 1943, Homer was assigned to Swains Island where he built and operated a powerhouse and radio and weather station, and provided medical services for 126 natives on the island. He returned to Fefe on Tutuila later in 1943 until he was order to Trinidad in the British West Indies in August 1944. He was honorably discharged from the Navy in Jacksonville, FL in September 1945 and worked his way back to Tutuila to rejoin Fefe and first son, Lee, in December 1945. He worked as the Civilian Personnel Officer of the Naval Station in Pago Pago until the end of April 1947 when he left American Samoa to move to Hawaii with his family, which had grown to include a second son, Leo. While in Samoa, Homer was instrumental in helping the American Samoan people establish a civilian government, which became the democratic government that exists today, to replace the Navy government.
After leaving American Samoa, Homer began his career with the Civil Aeronautics Administration (CAA), which is now the Federal Aviation Administration (FAA), and was assigned to Wake Island in late 1947 where he worked in the International Flight Service Station (IFSS) and eventually become an Assistant Chief. He brought his family to Wake Island in 1948, and in May 1949 Fefe went to Honolulu to give birth to their daughter Dinah, returning six weeks later to rejoin Homer and their sons. The Willess family lived on Wake Island until Homer accepted a promotion and assignment to Guam in January 1958. While on Guam, Homer became a Mason and earned his 33rd Degree with the Scottish Rite, and was an active member of the Shriners organization where he coordinated programs to provide medical care for crippled children throughout the Pacific. He and Fefe were also members of the Order of the Eastern Star where she became Worthy Matron with him as Worthy Patron. He has been actively involved with various Masonic organizations wherever he lived, including in Yukon, OK.
Homer worked for FAA on Guam until September 1968 when he accepted a promotion to work for the Department of Interior in Saipan as Communications Operations Officer for the Trust Territory of the Pacific Islands. Homer retired from Federal Civil Service in 1974, but he and Fefe continued to live on Saipan while Homer worked as a contractor for the Department of Interior on Saipan until 1976 when he retired from communications work for good. After leaving Saipan in early 1976, Homer and Fefe traveled around the country before settling down in Valley Center, CA later that year. In Valley Center Homer did what he loved to do…grow vegetables and raise chickens, ducks and geese to sell their eggs at the Farmer's Market that he helped establish in Vista, CA. Homer always had a garden wherever he went, and even raised honey bees to produce honey while on Wake Island. He was a farmer and country boy at heart.
Homer and Fefe lived in Valley Center for 28 years, finally moving to Spanish Cove on Memorial Day 2004. They lived together in their Spanish Cove apartment until Fefe had to move to nursing care in the Pavilion and eventually passed away. Homer remained in the apartment until he departed to join Fefe in Heaven. Homer dedicated his life to taking care of Fefe during her final years of life on Earth, and was at her bedside every day while she was in nursing care or pushing her in a wheelchair around Spanish Cove until she passed away. Their love for each other was extraordinarily strong and enduring, and we know they have been reunited in Heaven where they will be together for eternity.
Acknowledgements